Enter to win a Pomora Olive Oil Giveaway (valued at $225 USD).
The lucky winner will receive a One Year Adoption of an Olive Oil Tree in Italy!
Throughout the year, you receive quarterly shipments containing 3 x 250ml tins of high quality Pomora olive oil. Open to people with US, and UK mailing addresses only.
Olio Nuovo –
The youngest, freshest olive oil. Bottled directly after harvest, olio nuovo is unfiltered, has a vibrant green colour, a distinct fresh flavour, and a pizzicante finish.
Spring Flavoured Oils –
Examples of the spring flavoured oils include lemon, chilli, and rosemary. All the flavoured oils are made with extra virgin olive oil but generally a milder oil than the standard EVOO to let the flavours shine through.
Extra Virgin Olive Oil –
Complex flavours intertwine, and marry with a healthy finishing kick to produce a great base for vinaigrettes, focaccia or simply as a dip. Just as nature intended – pure, and delicious!
Autumn Flavoured Oils-
Three more flavoured oils for the autumn shipment. They mix it up with different flavours, for example, basil, garlic and white truffle. White truffle is one of the favourites – liquid luxury.
See below to enter the Pomora giveaway!
---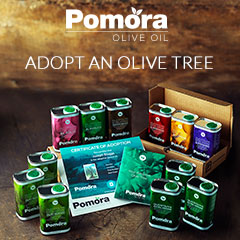 Get a 10% discount!                                                                                      Since there is only one winner for this special giveaway, Pomora is also offering a 10% discount to our readers who are interested in purchasing these fabulous oils for themselves, or as a gift. Click here to read more about what you get when you adopt an olive oil tree. Simply enter the code TWOK10 into the box on this payment page to receive The Two Kitchens discount.
Shipments can only be to US, and UK addresses. For Canadians on the west coast, check out Pulse Packages for a PO address if needed.
---
Product Review – Pomora Olive Oil
We were thrilled to get the opportunity to sample four varieties of Pomora Olive Oil for a two ways product review. We also created four new recipes using these wonderful oils that we are excited to share with our readers. Click here to find out more.
---