Like fine wine, the flavour of olive oil is affected by many factors including the variety (type of olive), growing conditions (soil, climate), crop maintenance (irrigation, pest control), ripeness at harvest and production methods.  The generally accepted way to taste olive oil is:
1.       Pour a small amount (1-2 tablespoons) of olive oil
into a wine glass (or blue tasting beaker if you have one).
2.       Warm the bowl of the glass with one hand while covering the opening of the glass with the other hand.  Swirl the oil around in the glass and then uncover the opening and smell the oil.
3.       Next, take some of the oil into your mouth using a slurping action to take in some air along with the oil – emulsifying the oil with air releases more flavour.  Allow the oil to move around in your mouth so it reaches all your taste buds.  Close your mouth and exhale through your nose to smell the oil "retronasally".
4.       Finally, swallow the oil and notice the sensation it leaves in your throat.  This slight stinging sensation is similar to that caused by a chilli and is known as pungency.
5.       Before tasting another oil, be sure to cleanse your palate by eating a small piece of apple (preferably a Granny Smith) and drinking some water.
These steps will allow you to judge the oil on its three primary dimensions – fruitiness, bitterness and pungency.  Why not try tasting your Pomora olive oil against one bought from a supermarket?  We're sure you'll agree there's no comparison.  Enjoy!
Provided by Alun of Pomora Olive Oil
---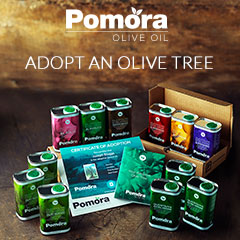 Get a 10% discount!                                                                                        Pomora is offering a 10% discount to our readers who are interested in purchasing these fabulous oils for themselves, or as a gift. Click here to read more about what you get when you adopt an olive oil tree. Simply enter the code TWOK10 into the box on this payment page to receive The Two Kitchens discount.
Shipments can only be to US, and UK addresses. For Canadians on the west coast, check out Pulse Packages for a PO address if needed.